LEOMO, Inc. Announces Partnership with
German cycling biomechanics company "gebioMized"
Boulder, CO USA & Tokyo, Japan April 26, 2018 — LEOMO, Inc., an emerging developer of innovative sports-based IT devices, today announced a partnership with gebioMized, widely known as a high-quality brand related to cycling biomechanics, to collaborate on ideas, and develop products and services targeting competitive endurance sports athletes.
LEOMO believes that the next generation of advanced performance optimization will focus on the comprehensive overview of athletes' behavior in a realistic riding environment. Through this partnership, LEOMO and gebioMized will attempt to bring new perspectives and innovative performance optimization analysis methods to the cycling community.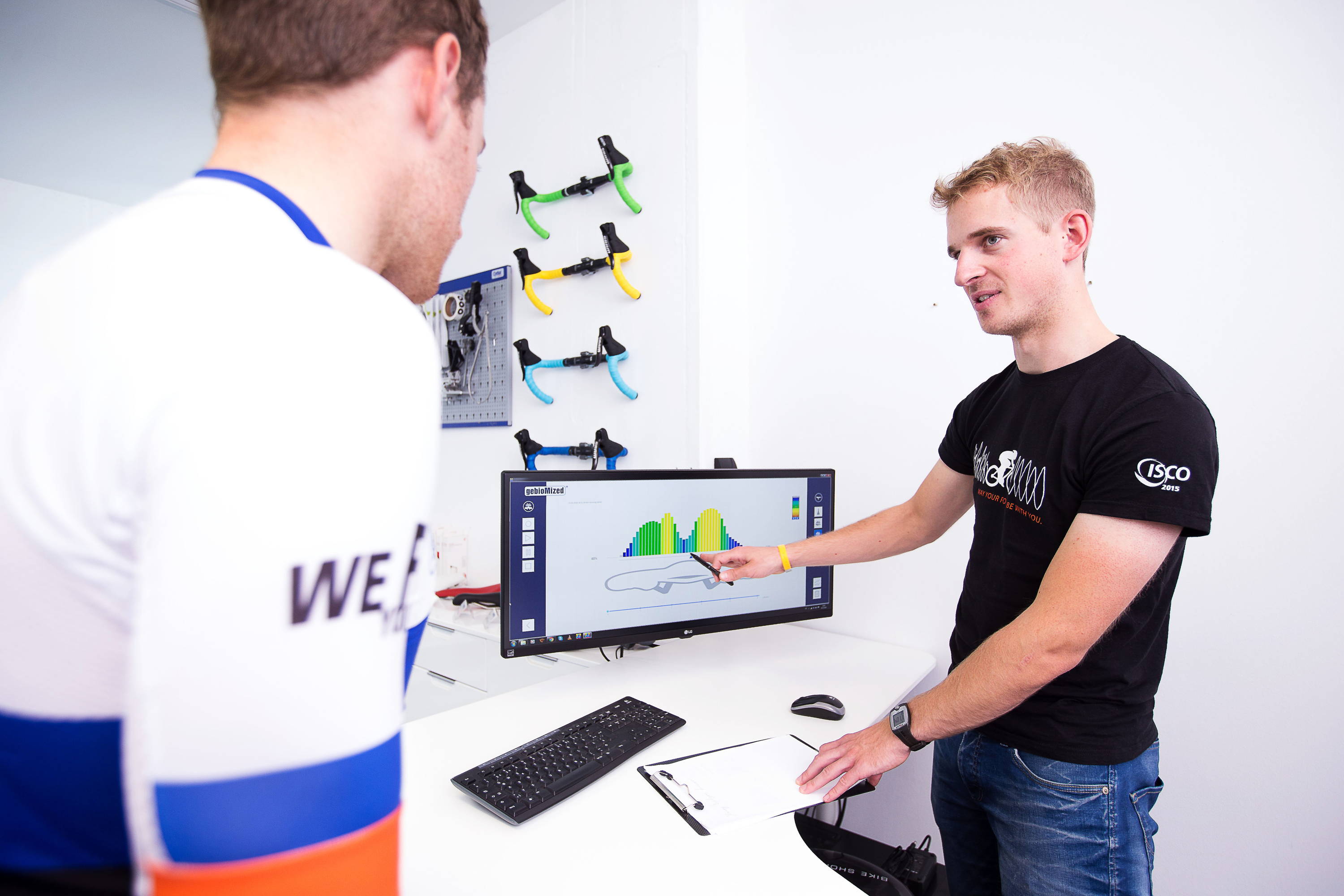 "In this new collaboration, I am really looking forward to see the combination of gebioMized's Pressure Mapping System and LEOMO's TYPE-R motion analysis enhancing endurance athletes' performance. I have great expectations for new innovations sprouting out of the feedback we will jointly gather from coaches, bike fitters, and athletes. " said LEOMO CEO Kunihiko Kaji.
Daniel Schade, gebioMized's CEO and principal sports scientist commented as follows.
" The whole gebioMized team is thrilled to start a development partnership with LEOMO. Although the LEOMO system is new on the market, it already offers superior possibilities for real world analysis. Combining gebioMized pressure mapping and LEOMO IMU data is definitely the next step in analyzing cycling biomechanics"
■   LEOMO and gebioMized
gebioMized has years of experience developing on-the bike performance optimization with some of the top athletes in the world. The addition of LEOMO's motion analysis technology will shine new light on pedaling efficiency, position sustainability, speed, and optimal power production of the riders who are competing at the highest level in the sport of cycling and triathlon.
The combination of gebioMized's touch-point sensors and the TYPE-R's Motion Performance Indicators (MPIs), will enable sports scientists, coaches, athletes, and bike fitters to see a complete picture of riders' dynamic efficiency in both indoor and outdoor environments.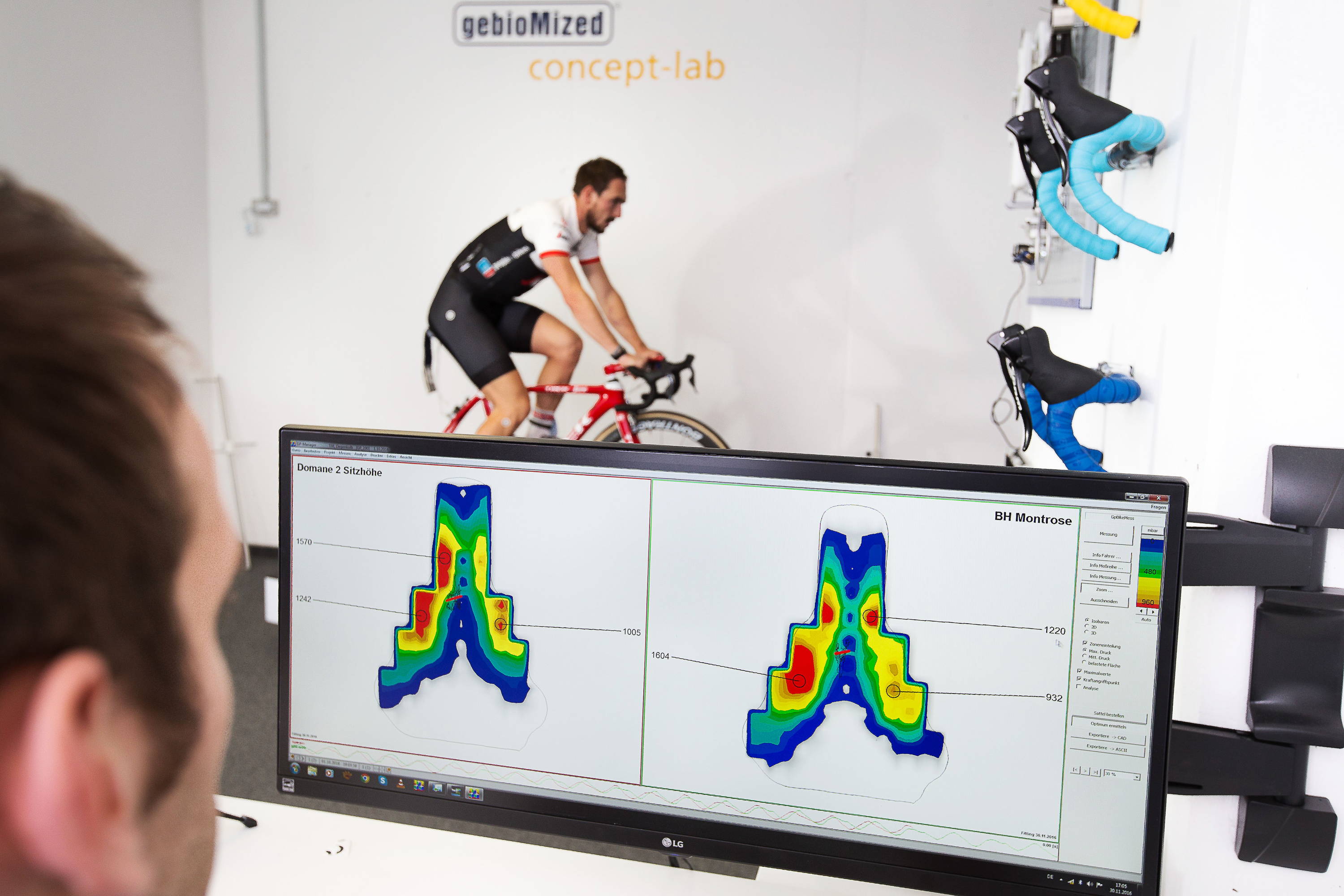 ■   What is the purpose of the partnership?
The initial intent is to perform collaborative research. By combining the two companies' unique technologies, LEOMO hopes to explore the new frontier of cycling science with gebioMized. We also feel that future product development possibilities are vast.
Scope of partnership:
・   Research collaboration. Development of new performance analysis methods.
・   Exploration on the next generation, IMU (Inertial Measurement Unit) - based bike fitting protocol
・   Research opportunities that pair motion data with other dynamics parameters.
・   Expertise from gebioMized in co-creating some new quantitative performance analysis methods for competitive cycling and triathlon industries.
In the future, LEOMO plans to introduce highly innovative solutions for bike fitters, endurance sports athletes, and their coaches in Europe. This builds upon LEOMO's entrance in the US and Japanese markets, providing products and services that cyclists and triathletes are already benefiting from LEOMO's pioneering technology.
■   gebioMized – the brand for cycling biomechanics and custom cycling products
Since 2001, gebioMized have been working on the optimal riding position. Having been developed in cooperation with the University of Muenster, our dynamic bike fitting concept is now used in more than 500 fit studios throughout the world. High-speed pressure mapping covering all contact points represents the centerpiece in gebioMized's bikefitting technology. Besides that measuring technology, gebioMized runs the 'ISCO fit school' and provide courses on different levels and in different languages for the international bike fitting scene.
gebioMized has its own patent-registered methods of saddle-pressure measurement, utilizing Custom Insoles and Custom Saddles, has been developed in cooperation with Dr. Claus Oehler (Sport Medicine Specialist, Augsburg) and a constant improvement took place based on studies conducted at Muenster University.
Coached athletes won several medals at Olympic games and world championships, including two-time Olympic Gold Medalist, Fabian Cancellara (Formerly of Team Trek Segafredo), and Tony Martin (Team Katusha Alpecin). gebioMized currently provides fit services to the professional cycling teams Trek-Segafredo and Katusha Alpecin. Among others the gebioMized team support and optimize riders such as Marcel Kittel, John Degenkolb, Bauke Mollema and triathletes like Patrick Lange, Boris Stein and Jan Frodeno.
Contact Info
gebioMized : info@gebiomized.de
WebsiteURL:www.gebiomized.de
 
LEOMO TYPE-R / Sales information:
LEOMO's TYPE-R is available for sale to the public in the US, priced at $799 through LEOMO's online store (https://www.LEOMO.io/store).
For Europe, LEOMO is targeting release of TYPE-R in Spring 2018.
LEOMO TYPE-R Bringing Motion Analysis in Reach
Until now, athlete motion analysis has been limited to occasional sessions at labs or studios that do not reflect real-world training or race conditions, and often require elaborate and expensive systems. LEOMO's pioneering TYPE-R portable motion analysis device will allow athletes and their coaches and bike fitters to collect data day after day easily and unobtrusively in the same conditions they train and compete in.
The TYPE-R comprises a sleek handlebar or wrist-mounted touchscreen head unit and includes features like GPS tracking, as well as ANT+™ connectivity for additional measurement of power, power balance, cadence, and heart rate. The head unit alone will give many high-end bike computers a run for their money, but the magic of the TYPE-R comes in the form of five discrete rechargeable Bluetooth® sensors, each with its own three-axis gyroscope and the three-axis accelerometer to accurately measure a wearer's motion and form. Worn on each shoe, above each knee, above the sacrum, and above the chest, the TYPE-R's sensors measure important aspects of a rider's movement like never before.
6 Sensor Positions and each Score / MPIs (Motion Performance Indicators)
- Right Foot & Left Foot -
1. Dead Spot Score (DSS)– Pinpoint the magnitude and locations where pedaling velocities lack smoothness along the left and right pedaling cycles.
2. Foot Angular Range– Measures how much the heel moves up and down while pedaling.
3. Foot Angular Range (Q1)- Measures how much the heel moves up and down between the 12 and 3 o'clock positions.
- Right Leg & Left Leg -
1. Leg Angular Range– Measures how much the thighs move up and down while pedaling.
- Pelvic -
1. Pelvic Angle– Measures how much a rider's pelvis is tilted upwards.
2. Pelvic Rotation– Measures around the vertical axis (spinal axis) of the pelvis
3. Pelvic Rock- Measurement around the longitudinal axis (axis from belly to back) of the pelvis
- New/Torso -
1. Torso Angle– Measures how much a rider's torso is tilted upwards.
2. Torso Rotation– Measures around the vertical axis (spinal axis) of the torso
3. Torso Rock- Measurement around the longitudinal axis (axis from chest to back) of the torso
 
The TYPE-R makes it simple to analyze data after a workout, thanks to its wireless upload capability. When synced to a Wi-Fi network, ride data can be uploaded to the cloud and analyzed on a web-based dashboard accessible from any web browser.
 
Manufactured by Foxconn, the TYPE-R hardware gives users peace of mind when it comes to quality and cutting-edge design and technology. LEOMO is still conducting battery endurance testing, but battery life is expected to be ~6.5 hours with use of an L battery and dock charger.
LEOMO-TYPE-R has won an iF Gold Award 2018 in the Outdoor, Sports & Leisure category. It's a first Gold Award for Athlete Wearable Device Category. More information about TYPE-R can be found in the "Design Excellence" section of the iF WORLD DESIGN GUIDE.
https://ifworlddesignguide.com/search?search=LEOMO#/page/entry/229513-LEOMO-TYPE-R/
About LEOMO, Inc.
LEOMO, Inc., founded by Kunihiko Kaji and Taizo Son (Serial entrepreneur) in 2012, is headquartered in Boulder, CO with a satellite office in Tokyo Japan. LEOMO's core business is to sell, design and manufacture devices and related services that contribute to advancements in sports. 39 employees (as of April 2018). For more information, log on to www.LEOMO.io or join the conversation on Facebook, Twitter, and Instagram at @LEOMOlabs.

 Contact Info
LEOMO, Inc.: press@LEOMO.io
WebsiteURL:https://www.LEOMO.io/