Boulder, CO USA & Tokyo, Japan August 10th, 2018 — LEOMO, Inc., an emerging developer of innovative sports devices, announced the launch of the TYPE-R in EU countries from September 1st 2018. The TYPE-R is first in a new category of wearable specifically designed to help competitive athletes and their coaches unlock the power of motion analysis. As a wearable motion measurement tool for athletes, the TYPE-R breaks down the potential inefficiencies of your body movements during cycling.
<LEOMO TYPE-R / Sales information>
From September 1st 2018, TYPE-R is available for European Union (EU) member countries as follows, priced at €799 (including VAT, plus shipping fee).
Belgium, Bulgaria, Czech Republic, Denmark, Germany, Estonia, Ireland, Greece, Spain, France, Croatia, Italy, Cyprus, Latvia, Lithuania, Luxembourg, Hungary, Malta, Netherlands, Austria, Poland, Portugal, Romania, Slovenia, Slovakia, Finland, Sweden, for 27 countries.
Amazon Deutschland : https://www.amazon.de/dp/B07F6RV6RC
Amazon España : https://www.amazon.es/dp/B07F6RV6RC
Amazon France : https://www.amazon.fr/dp/B07F6RV6RC
Amazon Italia : https://www.amazon.it/dp/B07F6RV6RC
<The wait is over campaign>
LEOMO offers launch campaign to customers located in European Union (EU) member countries.
Campaign website:
https://www.leomo.io/pages/wait-is-over-eu
<Discount %>
20% Discount: August 18th 00:00 (CET) - August 31st 23:59 (CET)
Individual discount code will be provided after the launch date.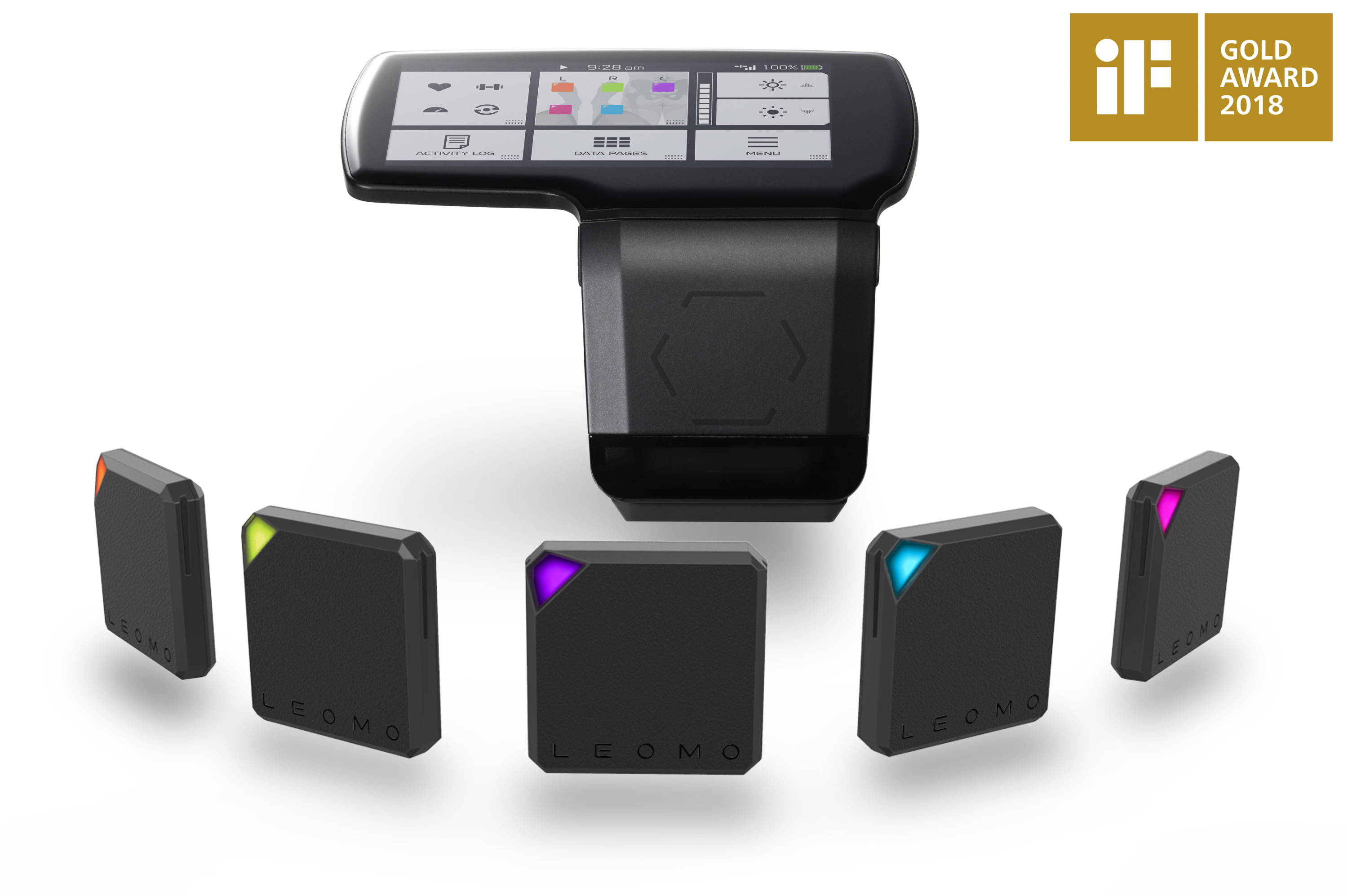 <LEOMO TYPE-R Bringing Motion Analysis Within Reach>
Until Now, motion analysis of an athlete has been limited to occasional session in labs or studios. These occasional indoor sessions do not accurately depict real-world training/race environments and have also been known to boast a hefty price. LEOMO's TYPE-R pioneers the field of portable motion analysis as it allows athletes, their coaches, and bike fitters to collect real-time data in any environment that captures the essence of training and racing conditions.
Wi-Fi data enabled, the TYPE-R lets users upload their data quickly to the cloud. LEOMO's web-browser based analytics dashboard gives users the comprehensive overview of their day to day activities. It enables the users to proceed with an analysis that integrates motion data with power, cadence, speed, heart rate, elevation, and more.
For Athletes: The TYPE-R closes the gap between an athlete's own intuition about their cycling motion and the objective measurements. By delivering the data in real-time, such measurements become highly visible and allows athletes to be aware of their good technique and key movements that are tied to their performance.
For Coaches: Assessing athletes' motion with the naked eyes can be inconsistent the TYPE-R can assist coaches to validate such assessments with data. In addition to their experience, coaches are now equipped with information to make data-driven decision making such that their clients receive precision-focused training strategies that provide competitive edges. With the ability to handle data in the cloud, coaches can also easily monitor their remote clients' conditions and training progress.    
LEOMO is working with world-class coaches such as elite USA Triathlon and USA Cycling certified coach and sports scientist, Neal Henderson, to test the TYPE-R with elite athletes. "Understanding motion is fundamental to understanding the body, so the TYPE-R provides valuable insights to help give me and my athletes a competitive edge," said Henderson. "Coupled with power and other metrics, it can help me objectively quantify and evaluate an athlete's movement accurately in the field – and in real time – which has not been possible until now."
Sebastian Weber, Professional cycling coach of multiple world champion, Tony Martin, and the founder of the STAPS human performance lab in Germany, said, "TYPE-R is a perfect complement to power measurement capabilities. I think the TYPE-R will bring the power of motion analysis out of the lab and into our cyclists' world for the first time, filling a void that's currently missing in their arsenal. And I am convinced that the TYPE-R will provide valuable insights into our athletes' motion and give them a competitive edge." said Sebastian Weber.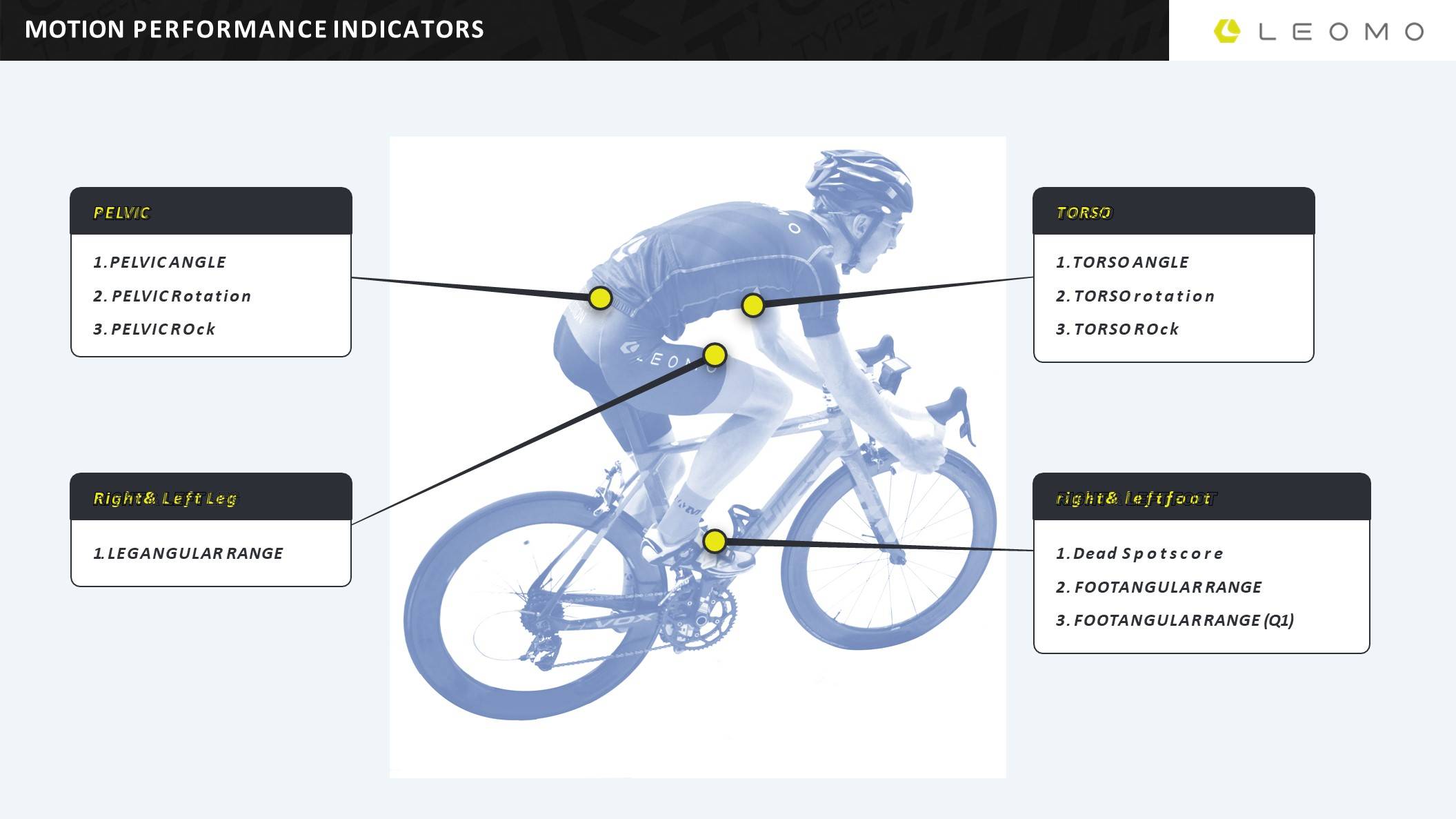 <5 Motion Sensors, 6 available Sensor Positions. MPIs (Motion Performance Indicators)>
The LEOMO TYPE-R consists of a touchscreen head unit and five small, lightweight rechargeable Bluetooth® sensors, each with its own three-axis gyroscope and a three-axis accelerometer. Worn on the thighs, feet, pelvis and/or torso, TYPE-R's motion sensors record the rider's movements at 100 data points per second. The real-time display aids the understanding of an athlete's form and techniques to provide insights into their performance.
Motion Performance Indicators on feet (L & R):
Dead Spot Score (DSS) – Exhibits the magnitude and locations where pedaling velocities lack smoothness along the left and right pedaling cycles.
Foot Angular Range (FAR)– Measures how much the heel moves up and down while pedaling.
Foot Angular Range (FAR Q1)- Measures how much the heel moves up and down between the 12 and 3 o'clock pedal positions.
Motion Performance Indicators on thighs (L & R):
Leg Angular Range (LAR)– Measures how much the thighs move up and down while pedaling.
Motion Performance Indicators on pelvis:
Pelvic Angle– Measures how much a rider's pelvis is tilted upwards.
Pelvic Rotation– Pelvic Rotation measures the angular rotational range of the sacrum's local vertical axis per second.
Pelvic Rock- Pelvic Rock measures the angular rotational range of the sacrum along its local sagittal axis per second.
Motion Performance Indicators on torso:
Torso Angle– Torso Angle indicates in degrees how much the chest (at sternum) is tilted upward relative to gravity.
Torso Rotation– Torso Rotation measures the average angular rotational range of the chest.
Torso Rock- Torso Rock measures the average angular rotational range of the chest to the left and right.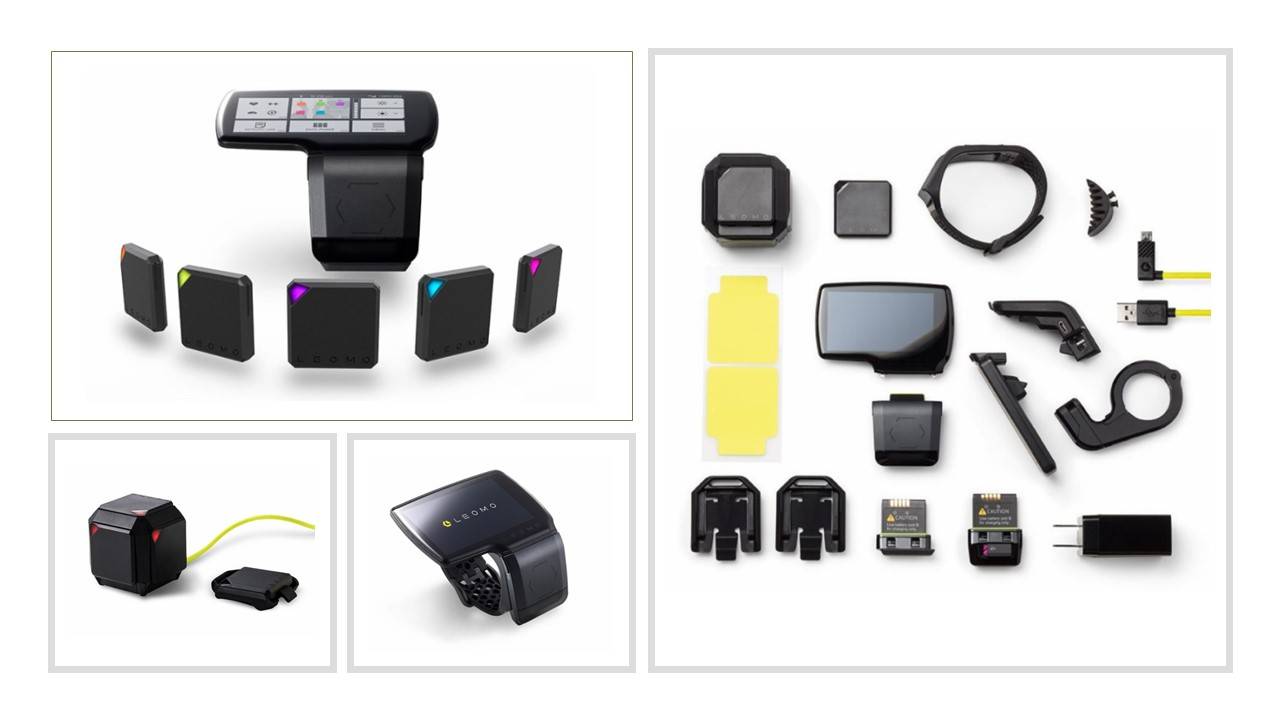 <LEOMO TYPE-R / GOLD winner of the iF DESIGN AWARD 2018>
TYPE-R won the top distinction in this year's iF DESIGN AWARD 2018, the iF GOLD award. From over 6,400 submissions, only 75 were awarded the gold by the independent expert iF jury. This is the first in history for athlete devices as sports technology.
https://ifworlddesignguide.com/search?search=LEOMO#/page/entry/229513-leomo-type-r/
<About LEOMO, Inc.>
LEOMO, Inc., founded by Kunihiko Kaji and Taizo Son (Serial entrepreneur) in 2012, is headquartered in Boulder, CO with a satellite office in Tokyo Japan. LEOMO's core business is to sell, design and manufacture devices and related services that contribute to advancements in sports. 39 employees (as of July 2018). For more information, log on to www.leomo.io or join the conversation on Facebook, Twitter, YouTube and Instagram
<Contact INFO>
LEOMO, Inc. Eddy Oda : press@leomo.io
WEB site URL:https://www.leomo.io/