TYPE-R
Introducing TYPE-R, the first in a new category of wearable technology specifically designed to empower competitive athletes and their coaches with portable, accurate, real-time motion analysis.
Motion Sensors
The TYPE-R comes with five small, lightweight rechargeable Bluetooth® sensors, each with its own three-axis gyroscope and three-axis accelerometer. Worn on the thighs, feet, and pelvis, the TYPE-R's motion sensors records the rider's movement at 100 data points per second, sending the data in real-time to the TYPE-R's display.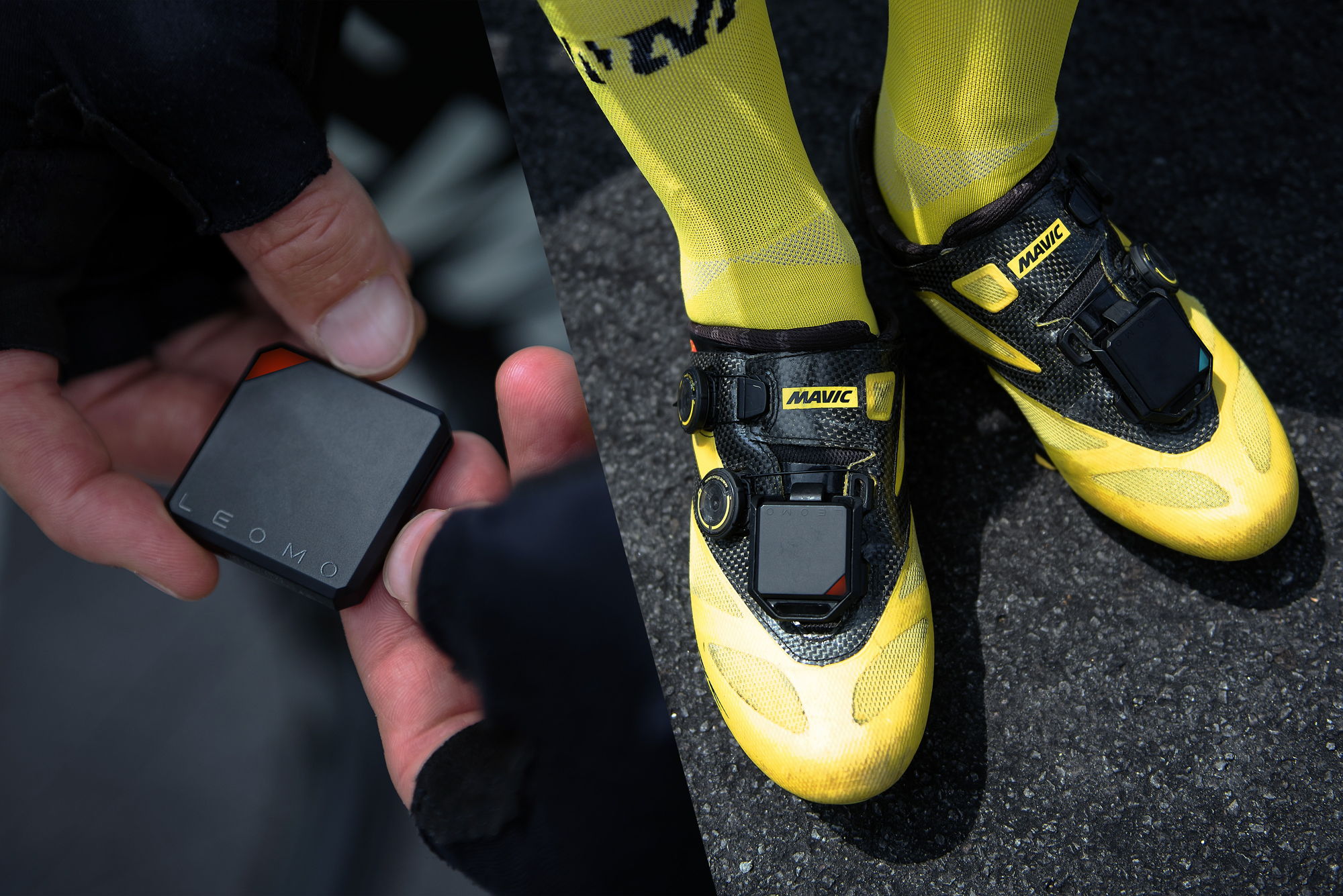 Real-time Interface
With the ability to connect to ANT+™ based sensors, the head unit will be able to track power, power balance, cadence, speed, and heart rate in addition to Motion Performance Indicators, or MPIs - motion quantified as values. All values can also be shown as graphs, giving the ability to track trends over time.
In-depth Data Analysis
Upload your activity data from the TYPE-R and access LEOMO's powerful activity analytics web app to review all your rides. Cross analyze your motion data with power, cadence, speed, heart rate, elevation, and more.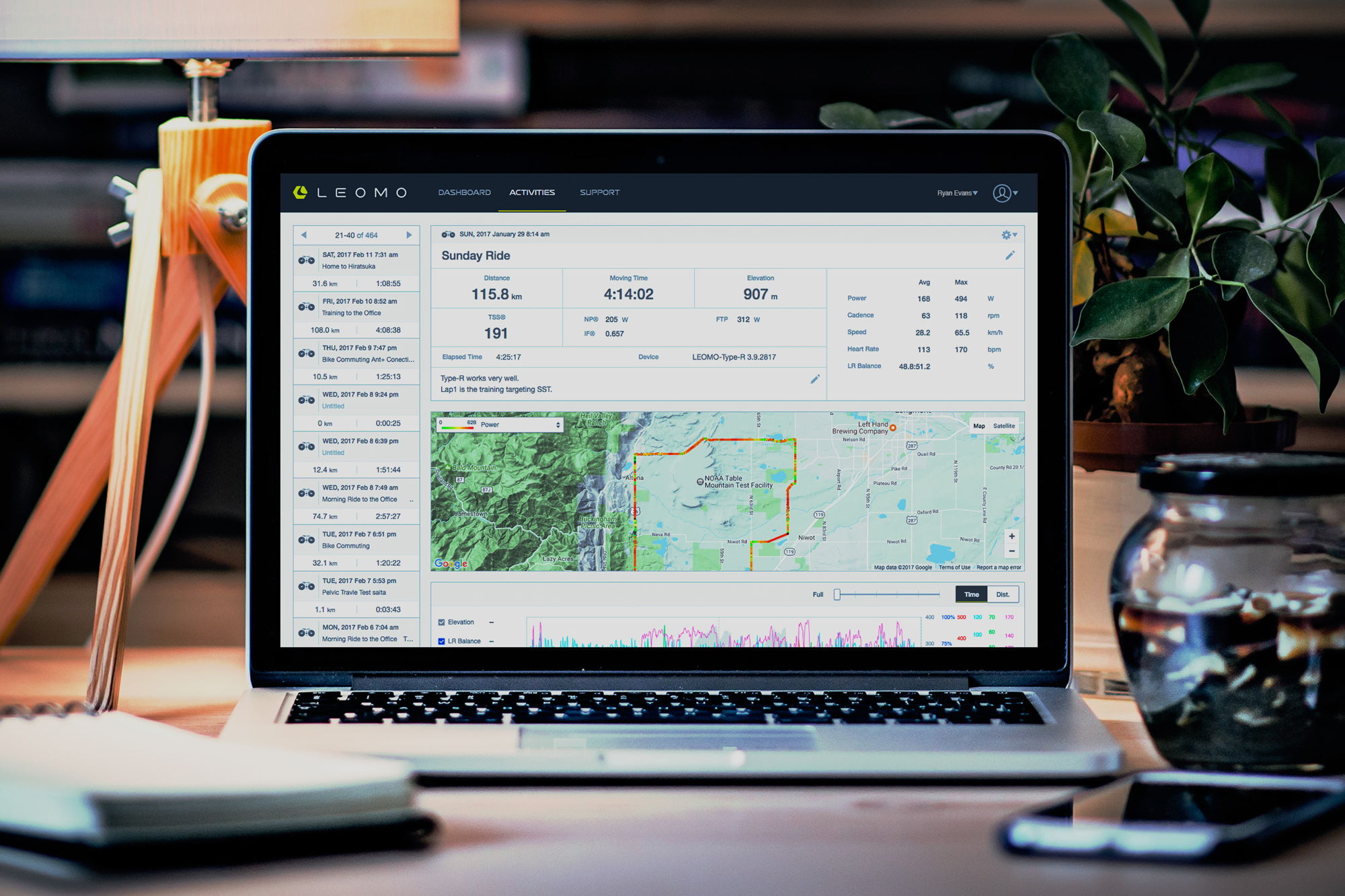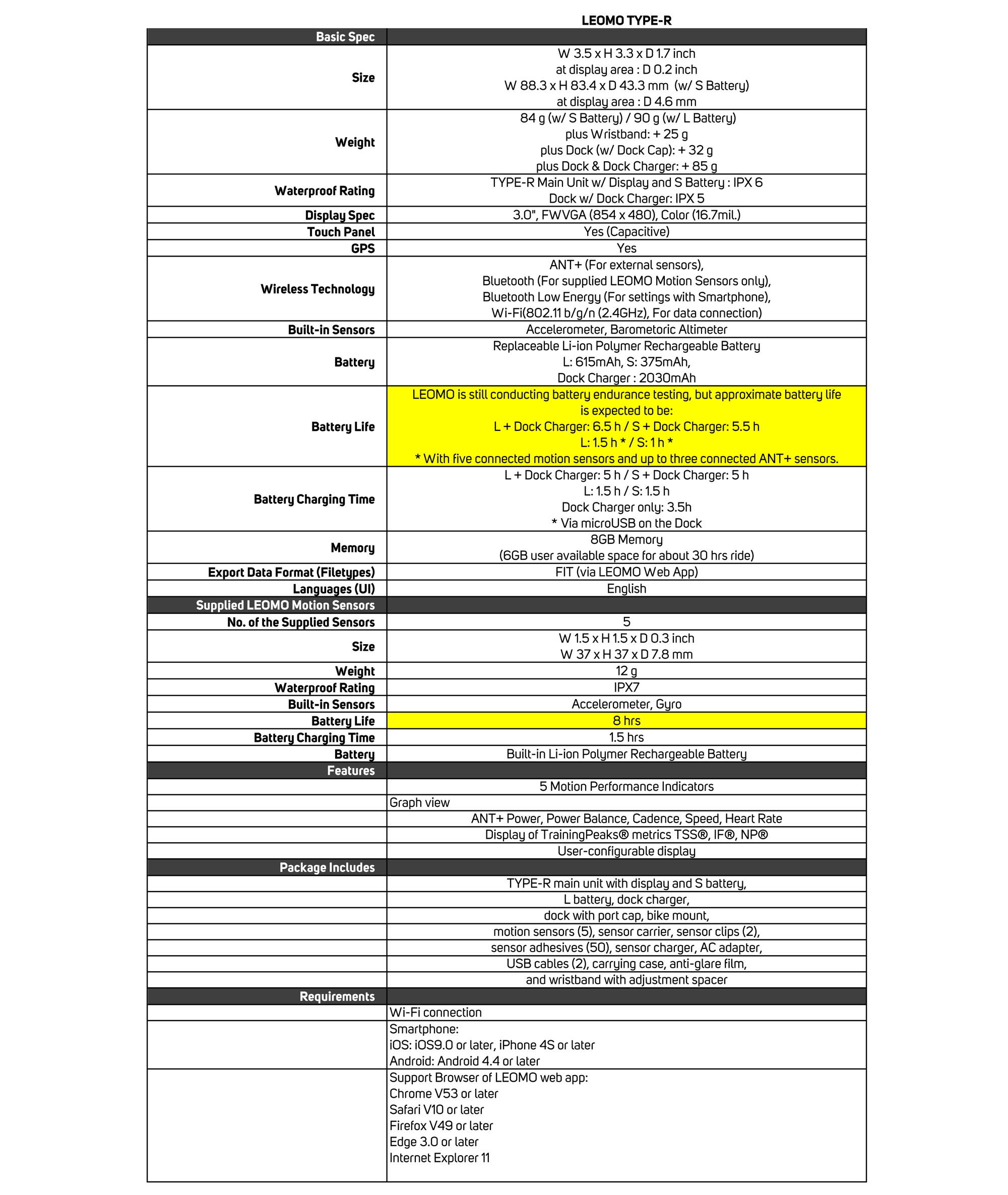 Size
w 3.5" x h 3.3" x d 1.7" (88.3mm x 83.4mm x 43.3mm)*
*at display area : d 0.2" (4.6 mm)
Weight
84 g (w/ S Battery) / 90 g (w/ L Battery)
plus Wristband: +25 g
plus Dock (w/ Port Cap): +32 g
plus Dock & Dock Charger: +85 g
Waterproof Rating
TYPE-R Main Unit w/ Display and S Battery : IPX 6
Dock w/ Dock Charger: IPX 5
Display
3.0 in, FWVGA (854 x 480), Color (16.7mil.)
Touch Panel
Capacitive
GPS
Yes
Wireless Technology
ANT+ (For external sensors),
Bluetooth (For supplied LEOMO Motion Sensors only),
Bluetooth Low Energy (For settings with Smartphone),
Wi-Fi (802.11 b/g/n (2.4GHz), For data connection)
Built-in Sensors
Accelerometer
Barometric Altimeter
Battery
Replaceable Li-ion Polymer Rechargeable Battery
L: 615mAh, S: 375mAh,
Dock Charger : 2030mAh
Battery Life
approx. 1h to 6h 20m with motion sensors*
approx. 1h 20m to 9h 40m without motion sensors*
*depending on battery configuration of the S Battery, L Battery, Dock Charger, and display brightness.

5 Motion Sensors

Connected

Off

Screen Brightness

Max

Min

Max

Min

S Battery

1h

1h 10m

1h 20m

1h 30m

L Battery

1h 30m

1h 50m

2h

2h 40m

S Battery & Dock Charger

4h 50m

5h 40m

6h 20m

8h 20m

L Battery & Dock Charger

5h 10m

6h 20m

7h 10m

9h 40m

All measurements were conducted under : Temperature: 73°F, GPS: On, 3 ANT+ Sensors Connected Battery life may be shortened depending on the situation, such as when the temperature is low.
Use TYPE-R where the ambient temperature is between 32º to 95º F (0º and 35º C). Low- or high-temperature conditions might temporarily shorten battery life, could stop charging from Battery charger and could cause the device to turn off. The behavior will return to normal when you bring the device within the range of operating ambient temperature. Store the device where the temperature is between -4º to 113º F (-20º and 45º C). Avoid to leave the device under high temperature environment such as under the blazing sun.

Battery Charging Time
1h 30m to 5h depending on battery configuration


S or L Battery + Dock Charger: 5h
S or L Battery: 1h 30m
Dock Charger only: 3h 30m

Memory
8GB Memory
(6GB user available space for about 30 hrs ride)
Export Data Formats (Filetypes)
.fit
Languages (UI)
English, Spanish, German, French, Italian and Japanese
Package Contents
TYPE-R main unit with display and S battery
L battery
Dock charger
Dock with port cap
Bike mount
Motion sensors (5)
Sensor carrier
Sensor clips (2)
Sensor adhesives (50)
Sensor charger
AC adapter
USB cables (2)
Carrying case
Anti-glare film
Wristband with adjustment spacer
Requirements
Wi-Fi connection


---

Smartphone:
  iOS: iOS9.0 or later, iPhone 4S or later
  Android: Android 4.4 or later


---

Supported LEOMO web app browsers:
  Chrome V53 or later
  Safari V10 or later
  Firefox V49 or later
  Edge 3.0 or later
  Internet Explorer 11
Quantity Provided
5
Size
W 1.5 x H 1.5 x D 0.3 in
W 37 x H 37 x D 7.8 mm
Weight
12 g
Waterproof Rating
IPX7
Built-in Sensors
Accelerometer
Gyroscope
Battery Life
approx. 7h 50m
Battery Charging Time
1.5 hrs
Battery
Built-in Li-ion Polymer Rechargeable Battery
AppStore and Apple logo are trademarks of Apple, Inc. Google Play and the Google Play logo are trademarks of Google, Inc.