LEOMO-TYPE-R has won an iF Gold Award 2018.
- First Gold Award for Athlete Wearable Device Category -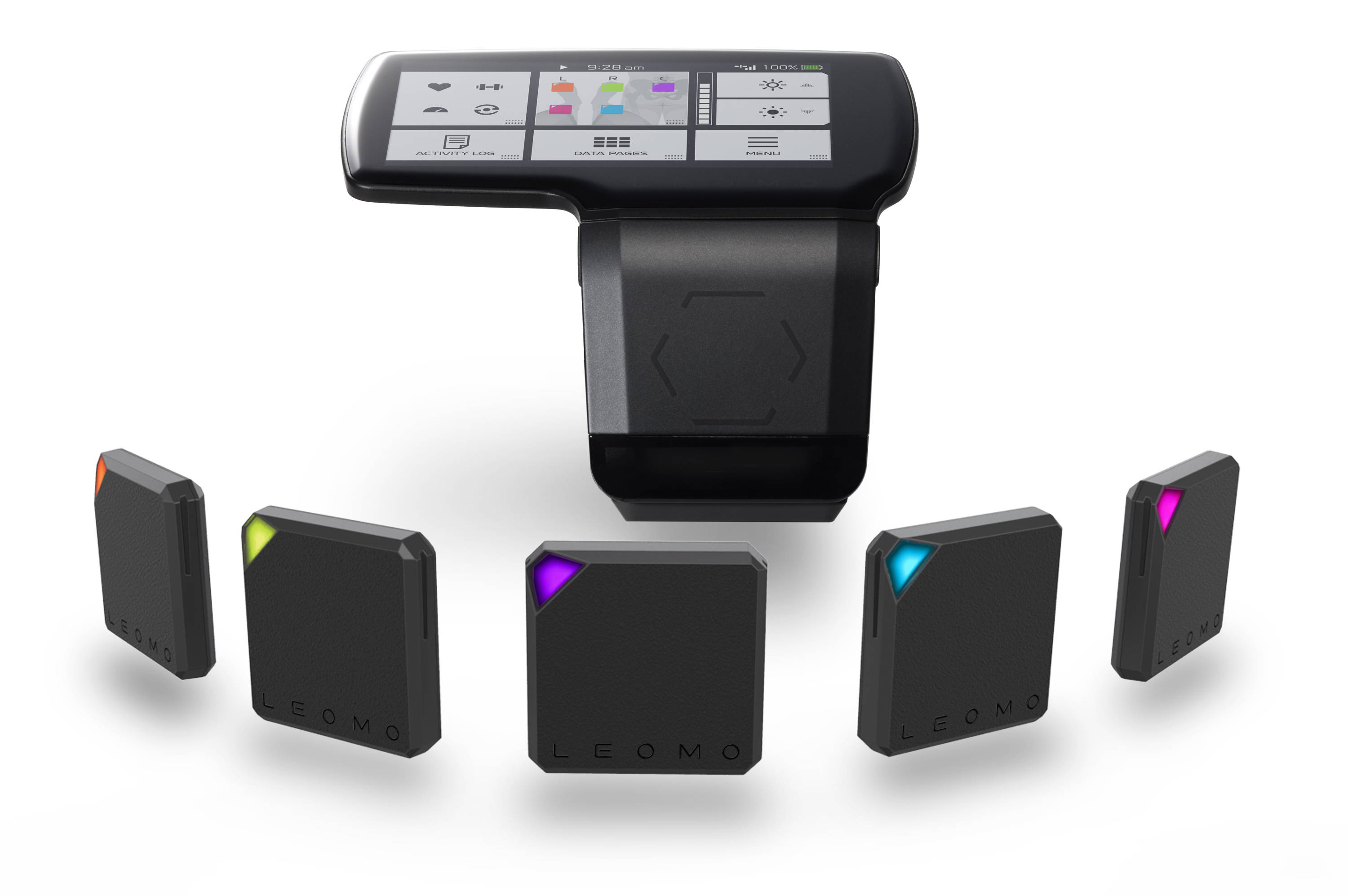 Boulder, CO USA & Tokyo, Japan March 19, 2018 — LEOMO, Inc., emerging developer of innovative sports devices, today announced that it won the top distinction in this year's iF DESIGN AWARD, the iF gold award. From over 6,400 submissions, only 75 were awarded the gold by the independent expert iF jury. Winners of this prestigious award represent just 1-2% of the total entries, and will be praised as the best designs.The LEOMO TYPE-R, won a gold award in the Outdoor, Sports & Leisure category. The jury released the following statement regarding its decision to issue TYPE-R the gold:
"Quite simply a beautiful design. This revolutionary motion analyzer breaks technical boundaries and does so with sophistication in every detail. A versatile product that takes a puristic approach."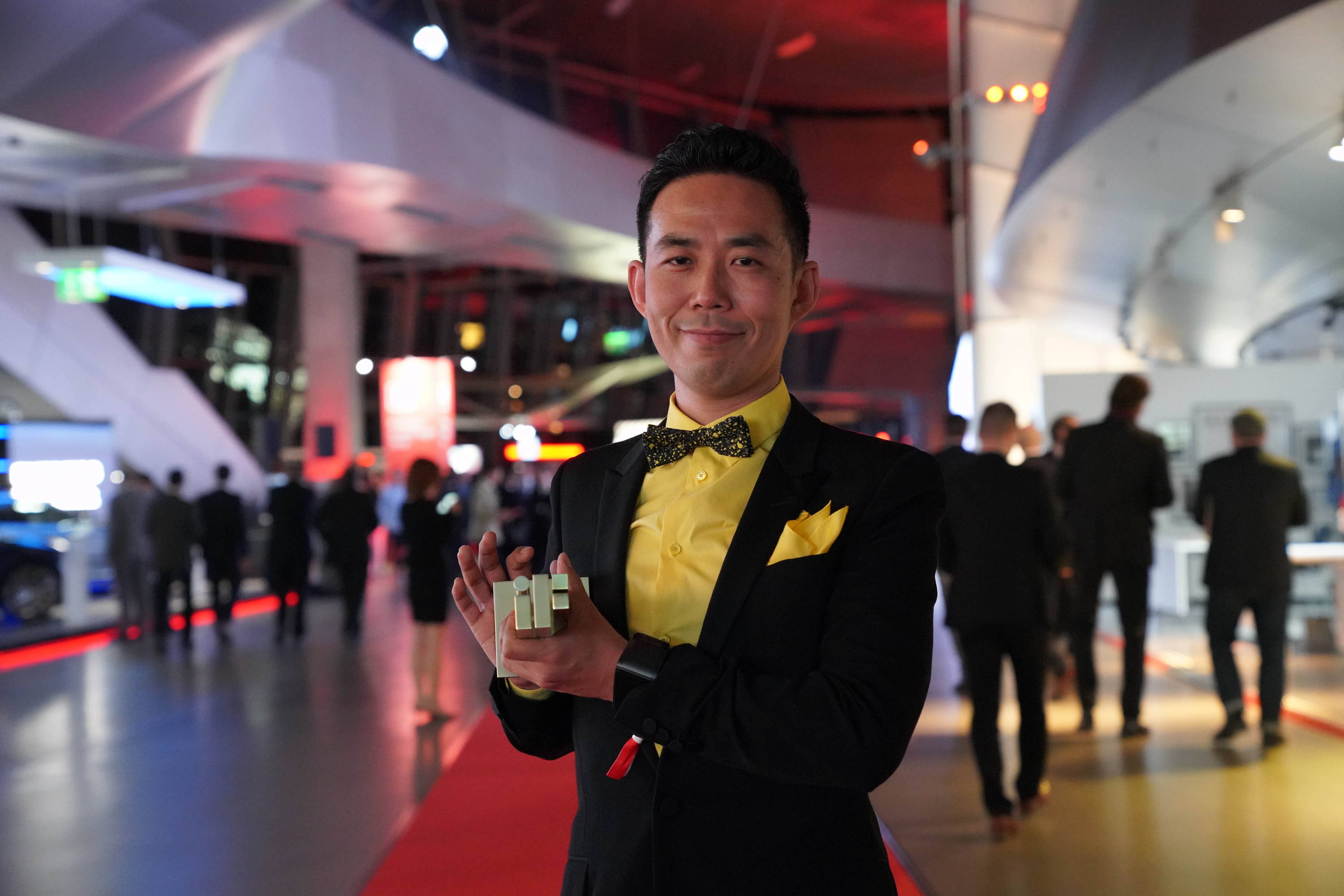 iF Gold Award Trophy with LEOMO, Inc. CEO Kunihiko Kaji
The iF Gold Award is given only to products that have cleared 11 strict standards such as functionality, innovation, environmental response, etc. as well as the beauty of molding and appearance. It's the first Gold medal in the history of iF Design Awards for an athlete's device alongside Ferrari's special model J50 and BMW concept motorcycles, or Bulgari's OCTO FINISSIMO AUTOMATIC in watches.
ILEOMO's industrial design team, led by Satoru Taniyama (winner of the prestigious "iF Design" gold award in 2005), spent more than three years to complete the concept and design of TYPE-R for LEOMO. Even for large companies, the "Modular concept" would have been a challenge, but LEOMO completed an advanced, original and sophisticated design that can be used in various sports.
LEOMO, Inc. CEO Kunihiko Kaji, commented as follows.
"Among the famous brands, we are delighted that TYPE-R, our first product, which is a start-up, received such an honorable prize, and I appreciate for the judges highly evaluated designs based on the product concept. LEOMO, inc. will continue to release products with innovative designs and functions. "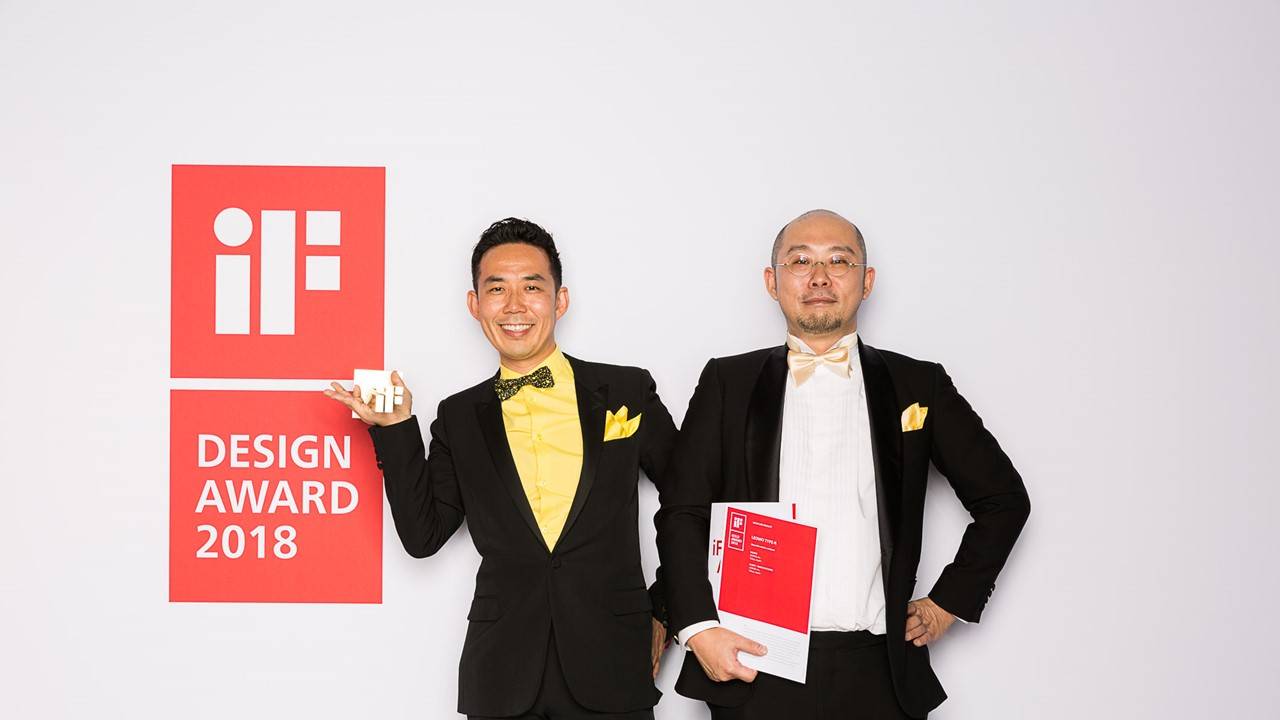 LEOMO, Inc. CEO Kunihiko Kaji (left), designer Satoru Taniyama (right)
Each year, the world's oldest independent design organization, Hannover-based iF International Forum Design GmbH, bestows the iF DESIGN AWARD on the best submissions.
More information about TYPE-R can be found in the "Design Excellence" section of the iF WORLD DESIGN GUIDE
https://ifworlddesignguide.com/search?search=LEOMO#/page/entry/229513-leomo-type-r/
About the iF DESIGN AWARD
For 65 years, the iF DESIGN AWARD has been recognized as an arbiter of quality for exceptional design. The iF label is renowned worldwide for outstanding design services, and the iF DESIGN AWARD is one of the most important design prizes in the world. Submissions are awarded in the following disciplines: Product, Packaging, Communication and Service Design, Architecture, and Interior Architecture, as well as Professional Concepts. All award-winning designs are featured on iF WORLD DESIGN GUIDE , in the iF design app, and are displayed at the iF design exhibition Hamburg .
For more information, please contact:
LEOMO, Inc. : press@leomo.io
WEB site URL:https://www.leomo.io/
■LEOMO TYPE-R / Sales information:
LEOMO's TYPE-R is available for sale to the public in US, priced at $799 through LEOMO's online store (https://www.leomo.io/store). For other regions, LEOMO is targeting release of TYPE-R in 2018.
<LEOMO TYPE-R Bringing Motion Analysis in Reach>
Until now, athlete motion analysis has been limited to occasional sessions at labs or studios that do not reflect real-world training or race conditions, and often require elaborate and expensive systems. LEOMO's pioneering TYPE-R portable motion analysis device will allow athletes and their coaches and bike fitters to collect data day after day easily and unobtrusively in the same conditions they train and compete in.
The TYPE-R comprises a sleek handlebar or wrist-mounted touchscreen head unit, and includes features like GPS tracking, as well as ANT+™ connectivity for additional measurement of power, power balance, cadence, and heart rate. The head unit alone will give many high-end bike computers a run for their money, but the magic of the TYPE-R comes in the form of five discrete rechargeable Bluetooth® sensors, each with its own three-axis gyroscope and three-axis accelerometer to accurately measure a wearer's motion and form. Worn on each shoe, above each knee, above the sacrum, and above chest, the TYPE-R's sensors measure important aspects of a rider's movement like never before.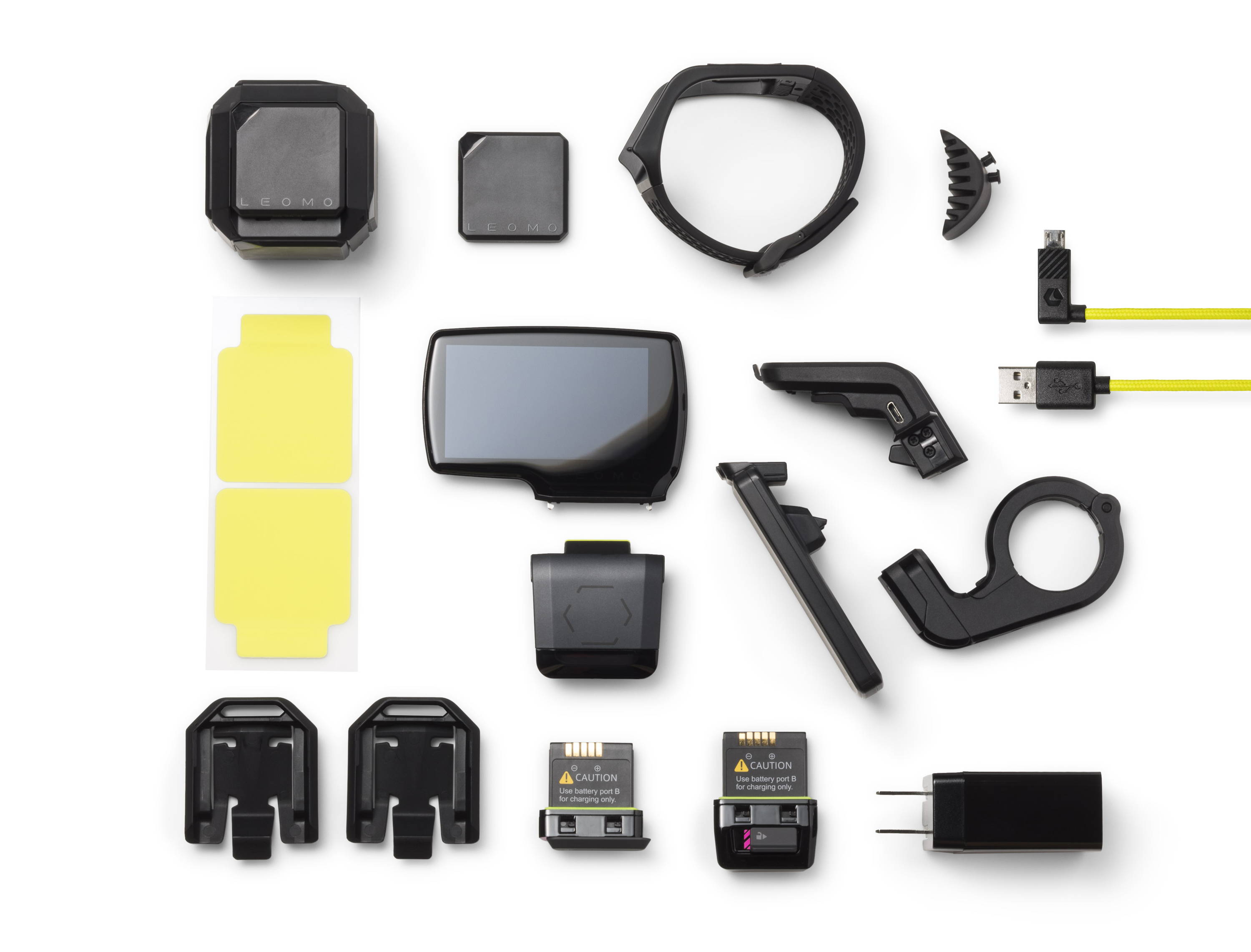 <6 Sensor Positions and each Scores / MPIs (Motion Performance Indicators)>
- Right Foot & Left Foot -
1. Dead Spot Score (DSS)– Pinpoint the magnitude and locations where pedaling velocities lack smoothness along the left and right pedaling cycles.
2. Foot Angular Range– Measures how much the heel moves up and down while pedaling.
3. Foot Angular Range (Q1)- Measures how much the heel moves up and down between the 12 and 3 o'clock positions.
- Right Leg & Left Leg -
1. Leg Angular Range– Measures how much the thighs move up and down while pedaling.
- Pelvic -
1. Pelvic Angle– Measures how much a rider's pelvis is tilted upwards.
2. Pelvic Rotation– Measures around the vertical axis (spinal axis) of the pelvis
3. Pelvic Rock- Measurement around the longitudinal axis (axis from belly to back) of the pelvis
- New/Torso -
1. Torso Angle– Measures how much a rider's torso is tilted upwards.
2. Torso Rotation– Measures around the vertical axis (spinal axis) of the torso
3. Torso Rock- Measurement around the longitudinal axis (axis from chest to back) of the torso
The TYPE-R makes it simple to analyze data after a workout, thanks to its wireless upload capability. When synced to a Wi-Fi network, ride data can be uploaded to the cloud and analyzed on a web-based dashboard accessible from any web browser. LEOMO also has plans to integrate with popular workout analysis platforms such as Training Peaks®.
Manufactured by Foxconn, the TYPE-R hardware gives users peace of mind when it comes to quality and cutting-edge design and technology. LEOMO is still conducting battery endurance testing, but battery life is expected to be ~6.5 hours with use of an L battery and dock charger.
<Institute of Motion Analysis (IMA): Exploring New Frontiers in Data and Performance>
In conjunction with the unveiling of the TYPE-R, LEOMO is announcing the Institute of Motion Analysis (IMA), a think tank research body comprising some of the world's leading sports scientists, exercise physiologists, coaches, physical therapists, and biomechanics experts. Recognizing the important role that motion analysis now plays as a tool for measuring physical performance, IMA aims to facilitate education and research around this important topic.
IMA will ultimately give all sports research and training professionals a platform to share and learn ideas, leading research and data, and the latest sports science discoveries for the benefit of advancing sports training and sports science.
IMA will comprise an international field of experts including Jim Martin Associate Professor, Exercise and Sport Science at the University of Utah; Neal Henderson, elite USA Triathlon and USA Cycling certified coach; Hunter Allen, elite coach and author; Dr. Inigo San Millán, Director of the Sports Performance Program at the University of Colorado's Sports Medicine and Performance Center; and Rodger Kram, Associate Professor in the Integrative Physiology Department at the University of Colorado.
<About LEOMO, Inc.>
LEOMO, Inc., founded by Kunihiko Kaji and Taizo Son (Serial entrepreneur) in 2012, is headquartered in Boulder, CO with a satellite office in Tokyo Japan. LEOMO's core business is to sell, design and manufacture devices and related services that contribute to advancements in sports. 39 employees (as of March 2018). For more information, log on to www.leomo.io or join the conversation on Facebook, Twitter, and Instagram at @leomolabs.
<Contact INFO>
eddyoda@leomo.io
LEOMO, Inc. Eddy Oda :press@leomo.io
WEB site URL:https://www.leomo.io/