LEOMO partners with elite Tokyo International University Ekiden Club
Partnership will utilize motion analysis technology to optimize running form, develop training programs and plan strategy for Ekiden relay race performance
TYPE-Sによる既存のデータ解析に加えLVSも活用しフォームの特性分析、トレーニングプランの策定、その後の進捗を数値化する多面的な解析を実施し、怪我の予防や駅伝レース戦略の強化に活用
Boulder, CO (July 8, 2021) —
LEOMO Inc., a company that helps runners and triathletes of all levels improve their technique and form with products and direct-to-customer services that enable faster, stronger, more efficient, injury-free running, has
signed a partnership agreement with the successful Tokyo International University Ekiden Club.
Under the agreement, LEOMO will be using its one-of-a-kind wearable motion analysis device and sensors to study the running form of more than 50 runners in the Ekiden Club for the purpose of optimizing runners for the Hakone Ekiden race, the most prominent and famous university relay race in Japan. The motion data collected will be able to identify characteristics of running form, help runners improve technique, formulate training plans and develop strategy for Ekiden racing.
By conducting multifaceted running form analysis with LEOMO TYPE-S and LVS motion analysis technology and quantifying runner progress through LEOMO Motion Performance Indicators (MPIs) and prototype metrics that have not yet been released, the partnership will help the club optimally prepare its runners for challenging Ekiden race course features, such as climbing and descending, and to determine which runners are best suited for the different characteristics of the specific sections of the course.
"Through my long experience as a coach, I have found it difficult to accurately grasp the characteristics of athletes and prevent injuries," said Hideji Oshida, Director of Ekiden Club at Tokyo International University. "Each and every runner is very important to us at the University Ekiden Club. We want to improve all the runners, and we also want Club the Ekiden race with the optimal placement."
LEOMO technology has already provided motion data analysis to 55 athletes enrolled in the Tokyo International University Ekiden Club, and it is not only used for daily instruction, but also for the running form analysis service provided by LEOMO for general runners.
Prior to using LEOMO technology, Oshida said it was difficult to see the small changes in movements of every athletes in the club and also more challenging to select runners for the sections of an Ekiden course.  
"After several tests with LEOMO, I found that what we visually felt as the movement of the runners and what was read from the data were quite the same," Oshida said. "Through future partnerships, we believe that we will be able to provide guidance that approaches the achievement of the goals of the University Ekiden Club by grasping the finer changes and suitability of the athletes."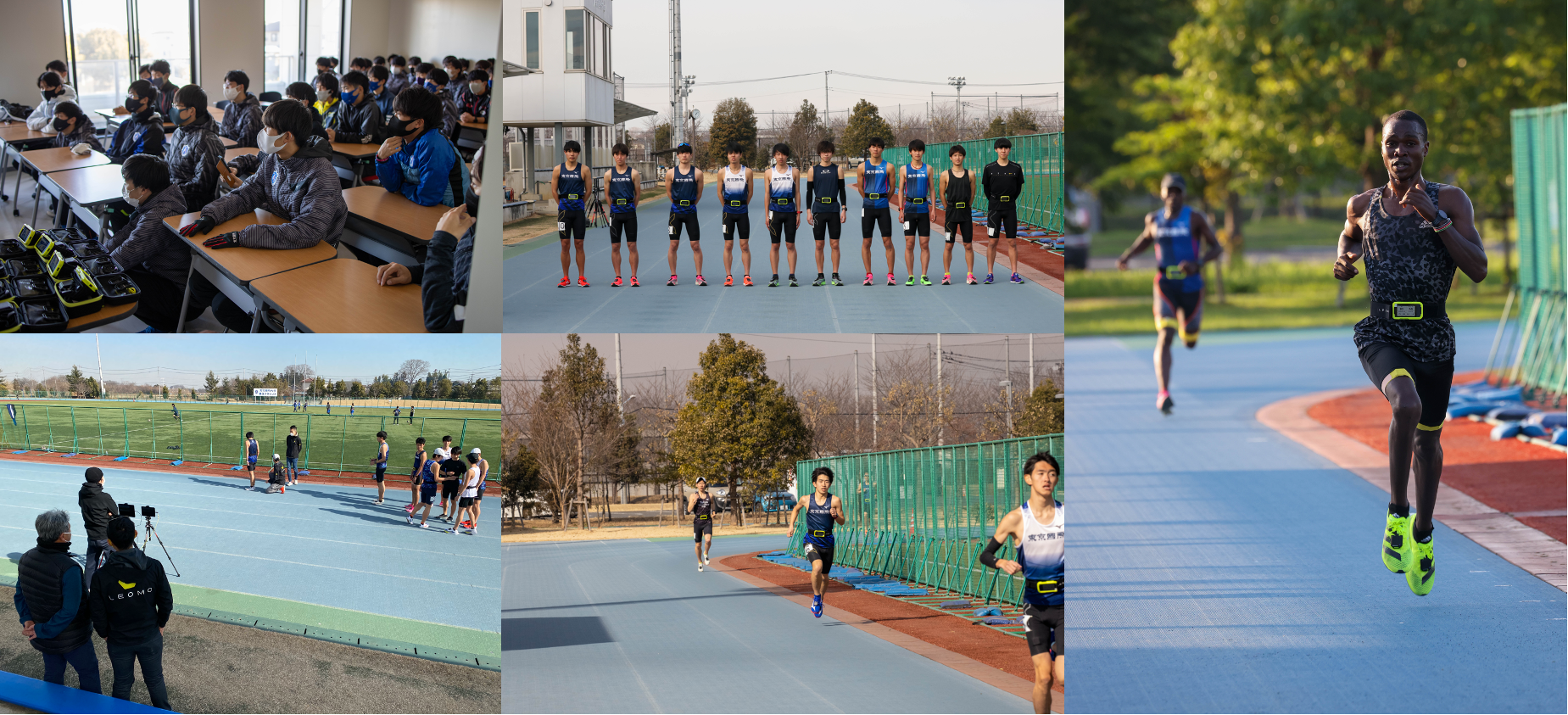 "Since our founding, we have been developing devices and services with the goal of providing useful motion analysis data for all athletes, and have provided them for cycling and athletics," said Kunihiko Kaji, CEO and co-founder of LEOMO. "Even in athletics, it has already been used by many athletes and coaches, from top athletes in Japan and around the world, as well as by recreational runners, to optimize daily training."
Kaji said LEOMO will continue to work with the club athletes with its data analysis and provide information based on Oshida's training philosophies to help improve their form and running performance. LEOMO also hopes to be able to use the knowledge gained from the partnership to apply it to all levels of athletes from elite to recreational runners and triathletes.
LEOMO was founded on the principle that "Precision Makes Perfect," and it has developed sports motion tracking technology with the belief that every runner, cyclist and triathlete can improve their movement patterns to become more efficient, faster, stronger and less susceptible to injury.
---
About Tokyo International University Ekiden
About LEOMO TYPE-S
TYPE-S has two lineups, TYPE-S sensor kit ($449, excluding tax), which is a package for beginners of motion analysis that includes two LEOMO motion sensors, and TYPE- that includes all five LEOMO motion sensors. S Sensor Kit Pro ($799, excluding tax) is sold at
www.leomo.io
in the U.S. and Amazon in Europe.
About LEOMO remote running form analysis service
LEOMO debuted its running form analysis service in Japan in 2020 and will launch it in the U.S. and Europe in 2021.
About Live Video Sync (LVS)
It is possible to record as one activity log together with the data sent from the LEOMO motion sensor and ANT + sensor that are recorded at the same time as the video at 120 fps or 240 fps using the camera of the iOS device in the application running on iOS. You can do it, and by playing it on the spot, you can give immediate feedback at the training or race site, and you can also output the log on the Internet. It is a subscription service that can be used from 20 $ excluding tax. Please see the website URL for details.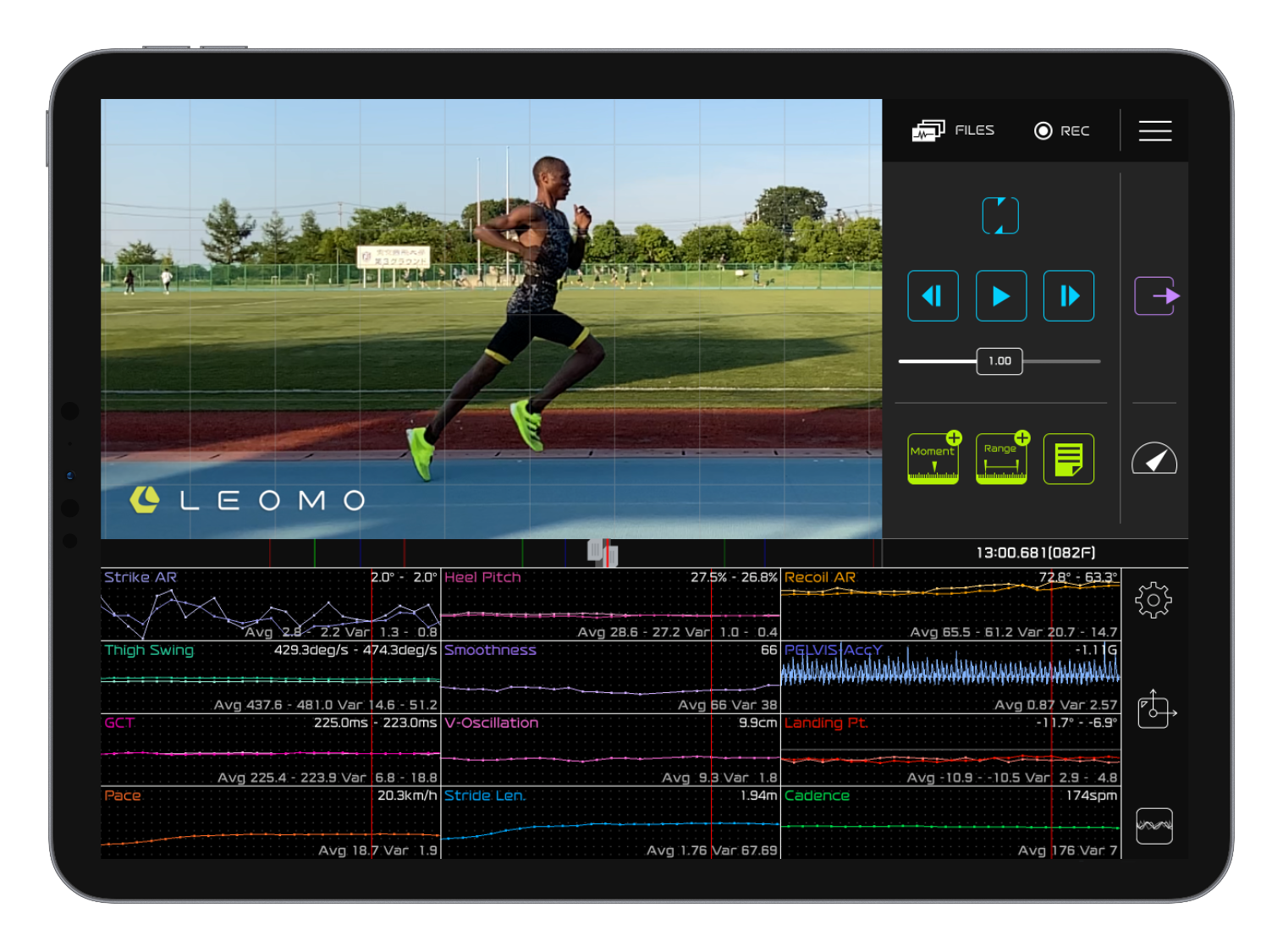 About LEOMO, Inc.
LEOMO, Inc. founded by Kunihiko Kaji and Taizo Son (serial entrepreneur) in 2012, is headquartered in Boulder, CO, with a satellite office in Tokyo, Japan. LEOMO's core business is to sell, design and manufacture devices and related services that contribute to advancements in sports. For more information, log on to www.leomo.io or join the conversation on Facebook, Twitter, YouTube and Instagram
Contact: press@leomo.io